Back to Blogs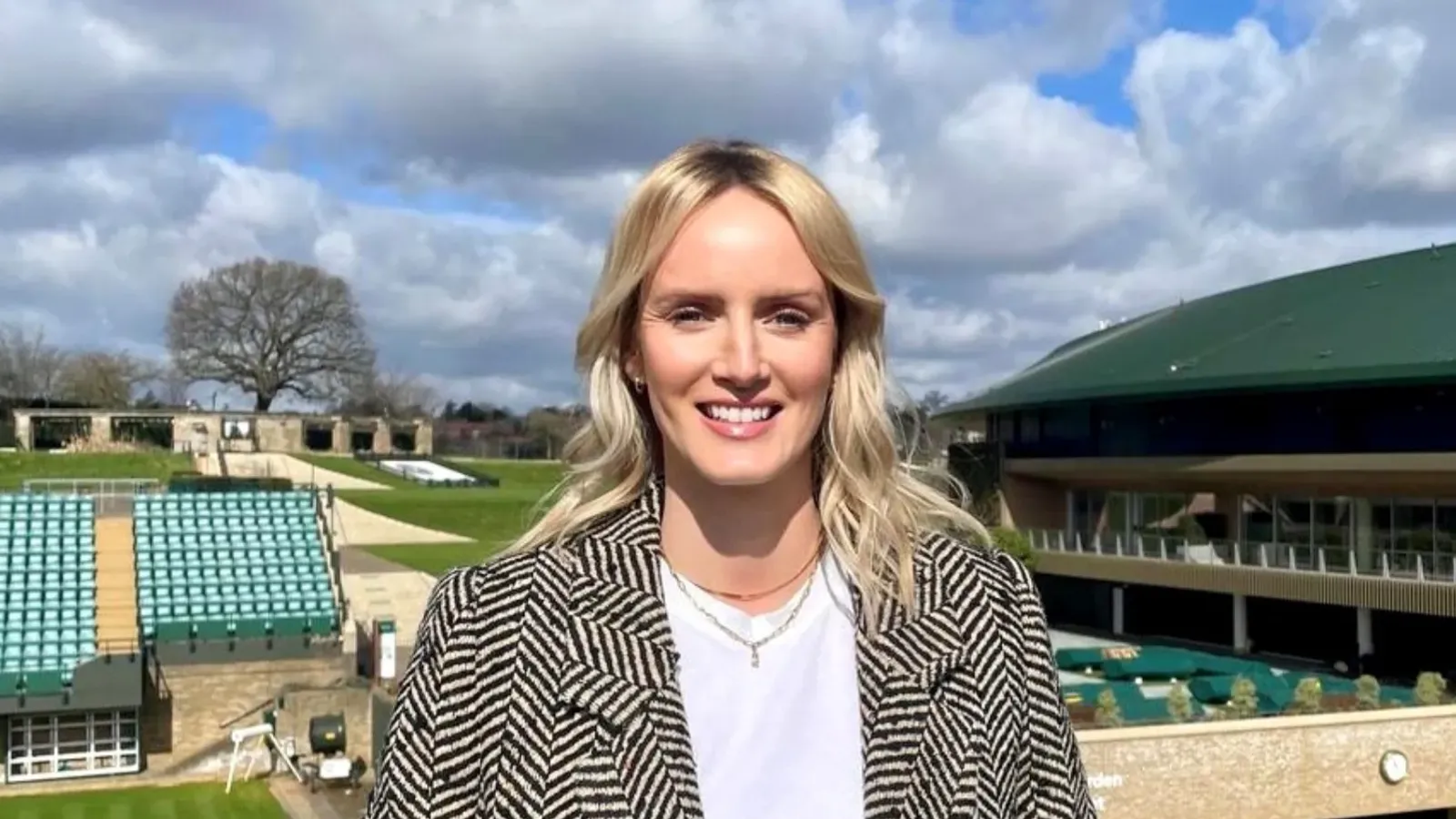 My Path to Wimbledon: Joanne Simons, Professional Tennis team
​As a young intern for the LTA, Joanne Simons carried out the winner's trophy onto court during the final of the WTA Birmingham tournament in 2011, hoping to start a career in tennis. Now, she resides as a manager within The All England Lawn Tennis Club's prestigious Professional Tennis team.
Last November, however, proved an important milestone: 10 years of working at the AELTC. In reflecting on her career so far, Joanne discusses her time at the Club, the steps she's taken throughout her work, and her inspirations along the way.
Talking through her early introductions to tennis, Joanne admits the atmosphere of spectating is where a profound connection to the sport began.
​
"I wondered how I could get into the sport without being a professional tennis player," she laughs.

​

"I went to an ATP event and saw the team bringing out the trophies onto the court and thought, 'I could do that'.
"A few years later I did get to carry on the trophy for the WTA's tournament at the Edgbaston Priory Club, in Birmingham. That set a real aspiration. I wanted to be on that side of the event, helping deliver something."
Alongside studying a degree in Business from the University of Reading, Joanne worked for the ATP Finals across two years. She says she gained invaluable contacts to widen her exposure to working in tennis, such as working at the China Open doing accreditation, along with paving a pathway into her career at the AELTC.
"The Birmingham Tournament Director gave me some contacts for people working at Wimbledon and I sent them an email saying I'd love to work there. I received a response, saying there might be a maternity cover position in the Club Office coming up. I applied for that – and here I still am, 10 years later!"
Over time, Joanne's responsibilities across the Club have changed. From working in the Chief Executive and Chairman's Office to working as CEO Office and Corporate Affairs Coordinator, she now works in a new role as Professional Tennis Manager.
The role, she says, always brings an enjoyable challenge – something she shares with the team around her in a variety of ways.
"The main part of my role is to manage the player experience at The Championships. Every touch-point – whether it's player services, transport, security, food and drink, it's in the hands of our team. We design players' journeys at Wimbledon, from the moment they enter our event to the farewell as they leave the Grounds, and identify how we can make them better from both an athlete experience perspective and an operational one too.
"The players are only 25 per cent of the group we look after," she explains. "It's also their guests, family members, coaching staff – we need to think about their experience too and whether they have everything they need."
​
In pondering what she enjoys most about her current role, Joanne says the rewarding feeling it brings makes the hard work worthwhile.
​
"The sense of achievement that comes with each Championships is rewarding – especially thinking about the contribution you play. When you're focusing on delivering something and it's successful, it's enjoyable to be a part of that."
​
Working at the AELTC for 10 years, Joanne says, has not been short of inspiring people along the way.
"In all my roles I worked closely with so many people who helped with the development of my career. I was fortunate to have Richard Lewis, former CEO, as the first boss in my career – someone so experienced and supportive, and working with Philip Brook, former Chairman, and Sally Bolton in her various roles before becoming Chief Executive. It was a massive influence at the start of my career, knowing that there are people who will look out for you and support you.
"A good thing about working in tennis is that it feels like a small world. You often come across the same people and I've been lucky enough to have ones offering some of their time to help."
While employed at the Club, Joanne has worked across a broad spectrum of projects – the most important one, she believes, being the amendment to the white clothing rule, new to The Championships 2023, allowing women to wear dark under-shorts.
​
The experiences gained from the past 10 years, she says, has put her in good stead to lead such a change and advocate for women in sport;
being a guardian of a Wimbledon tradition while bringing it into the modern 21st Century has been a proud moment.
​
In considering those wanting to work in sport and professional tennis, Joanne advises listening to yourself and taking note of what you're most passionate about.
"Tennis is a small world; it's important to stand out and have confidence but also remain authentic. Take advice but don't try to be someone else."
As the classic Wimbledon trophies are brought out onto Centre Court, Joanne watches from the behind the scenes, witnessing her year's worth of planning and preparation coming to an end – before having to do it all again next year.