Back to Blogs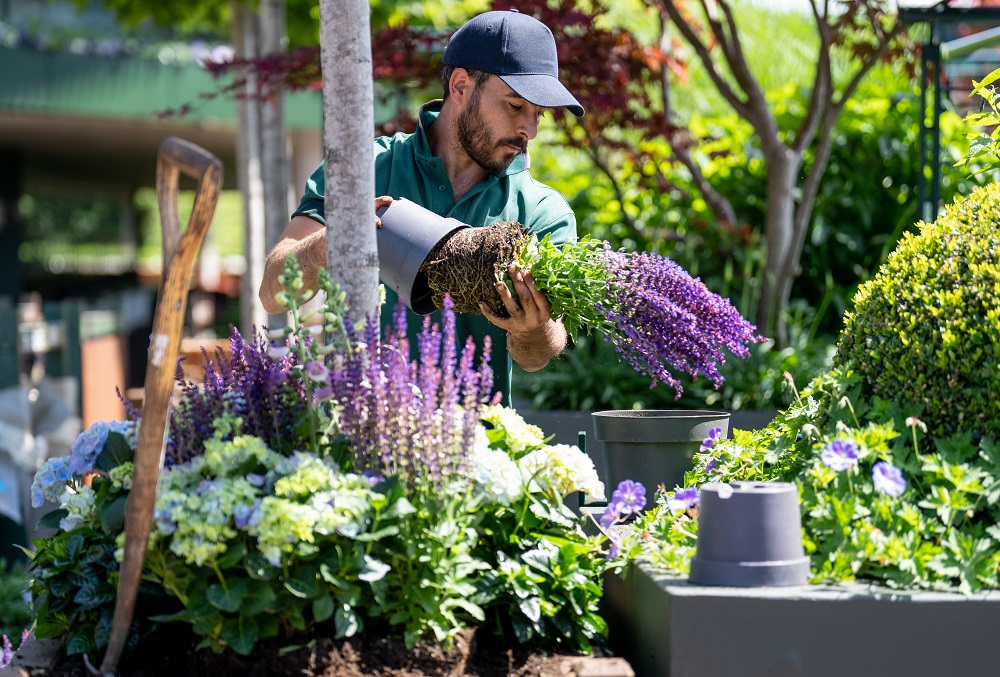 My path to Wimbledon: Robin Murphy, Horticulture Team
​
As we celebrate National Gardening Week at the AELTC, we talk to Senior Gardener, Robin Murphy, about his career path to Wimbledon.
In 2004, Robin Murphy – a trained carpenter, joined the All England Club on a summer job, no experience with gardening – nor a particular passion for it. 19 years later, now the Senior Gardener within the Club's prestigious Horticulture team, Robin's love for his work is undeniably evident – as it is infectious.
"I've worked every Championships since 2004," he explains. "I got a summer job through my dad's friend where I was doing all kinds of jobs – lifting pots, watering plants. I'd never viewed gardening as a possible career before then, but I really enjoyed it and look where I am now," he smiles, raising his shoulders.
After enjoying his glimpse into a career in horticulture, Robin worked as a contractor employed by the AELTC. Each year, he worked on the build-up, during, and the break-down of The Championships around other projects. In 2014, Robin – along with other colleagues, was brought in-house by the Club and has been employed by the AELTC since.
The Horticulture team, along with Robin and Head Gardener Martyn Falconer, consists of nine full-time staff – a number that doubles with seasonal staff joining as The Championships approach. Despite originally joining as a Gardener, Robin has progressed over-time to where he is now Senior Gardener.
"My main role is supporting everybody and making sure they are able to do their jobs correctly. I work closely with Martyn in terms of ordering plants for The Championships and planning out what jobs need to be done. I'm like a bridge for the team, in a way, in terms of being there as a go-to."
In discussing the variance between work year-round and during The Championships, Robin says a key difference is how the department runs operationally.
"Year-round we spend a lot of the time maintaining things – regular beds, doing maintenance gardening that would be done in most horticultural establishments. When we approach May, we shift to a Championships focus. This relies on installing temporary overlay – containers, seasonal plant outs. It's a real mix between traditional horticulture and event works."
When asked about his favourite part of working for the Club's Horticulture team, Robin smiles wide and tilts his head to the ceiling in thought.
"For this site, it's the excitement of transforming quite a bare canvas to the colourful wow factor you see during the Fortnight. Every week there is a change – whether it's the Living Wall budding or the Ivy around Centre Court becoming increasingly noticeable."
​
"My favourite feeling – one I can't fully describe – is the one I get every year when the Gates open on Day One. It's a sense of relief that all of our hard work is ready, but there's also a sense of responsibility that what you have been doing all year is on a stage for the whole world to see."
​
Since joining the Club, Robin has undertaken several training courses hosted by the Royal Horticultural Society – his Level 2 and 3 in Horticulture. Next, he says, is to complete his Master of Horticulture degree – a distinguished achievement.
Despite completing such "valuable" training throughout the years, Robin notes the influence his peers have had on his career.
"I've been lucky enough to work with some very knowledgeable people in and around different types of gardening. I've picked up bits of knowledge from people who have been in the industry for a long time; I don't think you can replace or replicate some of the tips you get from the people around you."
Working in horticulture, for Robin, often feels like a hobby rather than a job. This, he hopes, is something that entices more people into the industry.
"Just give it a go," he says, when asked about what advice he would give to someone considering the career path. "If you love working outside – and if you like sport as well, think of how many places you can try out with: training grounds, stadiums, parks.
"The majority of people I know within the industry didn't see it as a career initially, stumbled upon it, loved it, and never left. There is instant reward for your hard work – and that makes it entirely worthwhile."