​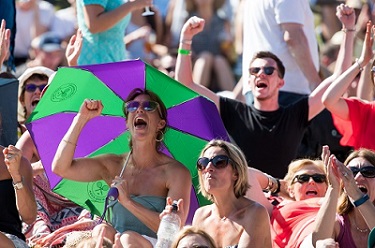 Wimbledon has been built on a legacy of more than 140 years of history and tradition. Our predecessors built the foundations and now it's our turn to guard that legacy, drive Wimbledon forward and plan for our future.​​
​
For two weeks each year, people come from all over the world. Our guests highly anticipate their visit to Wimbledon, and we want to leave them with memories to last a lifetime. It's our time to create those extraordinary moments and to make Wimbledon an unforgettable experience.
Heritage

We are proud to work here.

Pride is something that you will hear people talk a lot about at The AELTC. We are part of something very special and whatever our role, we all contribute towards making The Championships a successful event.

Integrity

Our actions are guided by our values.

Integrity is about doing the right thing and sometimes that isn't always the easiest thing. It's about putting our guests at the heart of our decision-making.

​Respect

We trust and value each other.

It's not just about what we do, but how we go about it.

We treat people with respect at all times, regardless of the situation.

Excellence

We always strive to improve.

Whatever our role, we are united by a common ambition – to continually improve on what we do every day in our pursuit of greatness.
Some important milestones
July 2023

AELTC named on list of Best Workplaces for Women™ 2023

​We are incredibly proud to be an organisation recognised by Great Place to Work® for the work we have done to create a work environment that values, recognises and supports everyone to achieve their full potential.

April 2023

The All England Lawn Tennis Club officially a UK's Best Workplace™

​Our colleagues show a deep sense of pride in everything they do and continually work hard to deliver exceptional experiences for all our guests. Thank you to every one of our colleagues for building a remarkable culture and helping to achieve this recognition.

February 2023

AELTC Recognised on the list of Best Workplaces™ for Wellbeing 2023

​We have placed 37th out of 79 organisations recognised in their annual listings. In considering who should make the list, Great Place to Work® took into account work environment, financial security, mental and physical health, interpersonal relationships, work-life balance and fulfilment at work.

November 2022

Finance Team of the Year at the Women in Finance Awards

Reflecting the work undertaken in 2020 and 2021, including the cancellation insurance claim, the judges noted the team's ability to adapt and change during a period of adversity and that "a strong leader is integral but only as good as the team by build".

November 2022

Professional Tennis Courts Grounds Team of the Year

Our Groundstaff team were crowned the Professional Tennis Courts Grounds Team of the Year at the Grounds Management Industry Awards.

October 2022

Usama Al-Qassab joined as Marketing and Commercial Director

​Usama brings award-winning global leadership experience within marketing, brand management, digital transformation and innovation. He previously worked as Vice President Marketing (Disney+) EMEA where he drove the successful launch of Disney+.

September 2022

Launch of our Diversity & Inclusion Strategy

'Wimbledon Welcomes You'. ​Our strategy aims to create an environment that promotes having an open conversation and encourages different perspectives.

July 2022

Centre Court 100

The AELTC celebrated the centenary of Centre Court in it's home at Church Road. A stadium which has witnessed history provided us with an opportunity to reflect on the past, but also look forward what's to come in the next 100 years.

April 2022

New Indoor Car Park for Colleagues

​All colleagues on a permanent and fixed term contract are able to park in our basement car park in the Indoor Tennis Centre.

July 2021

Great Place to Work® - Best Workplaces™ for Women 2021

We were delighted to have been awarded the Best Workplaces™ for Women by Great Place to Work®. We continue to ensure that everyone can feel valued and empowered, regardless of their gender.

April 2021

Great Place to Work® - Best Workplaces™ 2021

​The AELTC was recognised on the list of Great Place to Work® - Best Workplaces™ in 2021. In fact, 98% of our colleagues said they're proud to tell others they work here.

February 2021

Recognised by Great Place to Work® UK as a centre for Excellence in Wellbeing

Our colleagues are human - they have lives, families and fears. That's why we take wellbeing seriously and offer a range of workshops, tools and benefits so everyone can get the most out of life.

November 2020

Accredited as a Living Wage Employer

​​We voluntarily choose to pay the London Living Wage because we believe that a hard day's work deserves a fair day's pay.

August 2020

Sally Bolton OBE appointed as Chief Executive

​With a proven track record of sports and event management experience at both an executive and non-executive level, Sally is known for her depth of experience, vision and positivity in managing a wide variety of stakeholders at both a strategic and operational level.

May 2020

Michelle Dite appointed as Operations Director

​Michelle has over 20 years experience in the major events industry working. Highlights include the inception, feasibility and operational delivery of a number of major events including Invictus Games 2014, MLB London Series and Paralympic World Cup.

November 2019

Introduction of our Mental Health First Aiders

​At the AELTC, we are committed to creating a safe, healthy workplace where the wellbeing of all colleagues is valued. We now have 11 trained Mental Health First Aiders across the organisation who are there as a support for all.

December 2018

AELTC acquires Wimbledon Park Golf Club

A once in a lifetime opportunity to cement London's position as a global leader in world class sporting venues. A new public park for our local community, bringing our Qualifying Tournament on site and creating a Parkland Show Court are just three of the many aims.​

We are a diverse and inclusive organisation, committed to confronting and eliminating the discrimination on any discriminatory grounds.
Accessibility is a priority for us and we will make reasonable adjustments, so far as practicable, to accommodate individuals' specific needs.
If there are any barriers to you applying for one of our roles, please get in touch with our team by emailing recruitment@aeltc.com so we can discuss alternative application methods.